Shoemaker ~ Skipper W Bloodlines
---
Home Stallions Broodmares Horses For Sale Foals Links Contact Us
Foals
2013 - 2015 - 2016 - 2017 - 2018 - 2019 - 2020 - 2022

Our foals are the result of selective breeding to produce Quality Individuals

---
For more foal pictures see "Get Of Sire Pages" below


2022 FOALS BY SD CLASSIC GENTLEMAN
(Unless otherwise identified)
---


2021 FOAL BY MY INTENTION
---


2016 - 2017 - 2018 - 2019 - 2020 FOALS BY OLE SKIP CLASSIC
(Unless otherwise identified)
---


2020 FOALS
---





2019 FOALS
---


2018 FOALS
---
---
2017 FOALS
---
2016 FOALS



2015 FOAL
---


Skip Prevail - Sire - 2015



Shoemaker~Skipper W Futurity Winner
PHSC Year End High Point Yearling Stallion
AQHA Grand Champion Stallion Open & Amateur over Aged Stallions Utah State Fair
Produces pretty foals with outstanding dispositions. They're also nice to ride.
Joe has a very gentle easy going disposition and nice to be around. He stands 15.1hh. Is not broke to ride.
2015 FOALS
Pictures taken as yearlings
---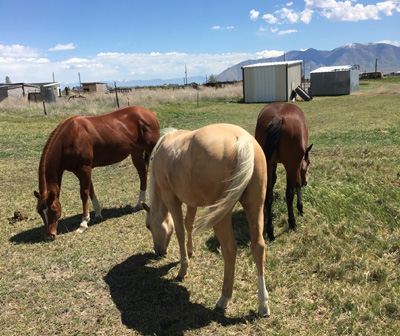 2013 FOAL
---




Ken & Connie Durfee
Grantsville, UT 84029
(435) 884-3374